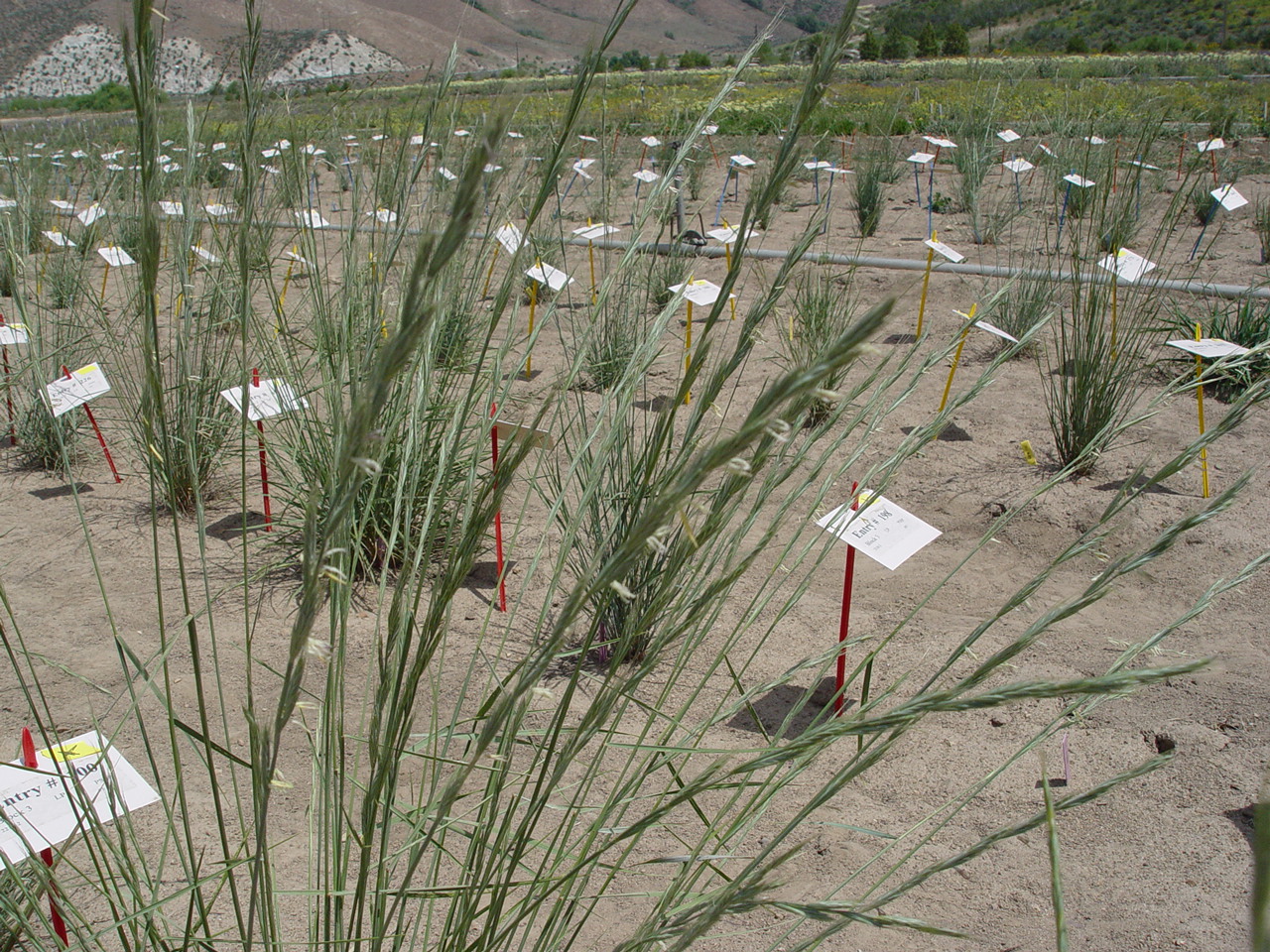 GENETICS AND SEED ZONES
Genetic Diversity and Genecology of Prairie Junegrass (Koeleria macrantha) and Squirreltail (Elymus elymoides)
Francis Kilkenny and Brad St. Clair
Common gardens were established in contrasting sites for prairie junegrass (Koeleria macrantha) and squirreltail (Elymus elymoides).
We evaluated and compared growth, morphology, and reproductive traits for populations of each both species.
General patterns that emerged from the preliminary analysis of prairie junegrass common gardens were largely congruent with large-scale ecoregions, suggesting that Omernick's Level III ecoregions may be useful for seed zones. A preliminary seed zone map was developed.
Analyses from squirretail common gardens suggest that squirreltail traits are highly plastic with phenological traits varying primarily by year, and size traits varying primarily by planting site.
Testing the Efficacy of Seed Zones for Re-establishment and Adaptation of Bluebunch Wheatgrass (Pseudoroegneria spicata)
Holly Prendeville, Francis Kilkenny and Brad St. Clair
The locations for 16 common gardens test sites in the Blue Mountains, Columbia Plateau, Snake River Plain, and Northern Basin and Range ecoregions were finalized and sites prepared for establishment.
The common garden sites were planted in the fall of 2014 with 20 replicate plugs from 78 populations, one cultivar and one selected germplasm of bluebunch wheatgrass (Pseudoroegneria spicata).
Conservation, Adaptation, and Seed Zones for Key Great Basin Species
Richard C. Johnson, Erin K. Espeland, Matt Horning, Elizabeth Leger, Mike Cashman, and Ken Vance-Borland
Seed zones for Sandberg bluegrass (Poa secunda) across the Inter-mountainWest and the Great Basin have been mapped and published.
Seed zones have been modeled for Thurber's needlegrass (Achnatherum thurberianum) for the Great Basin and will be mapped and submitted for publication in 2015.
Basin wildrye (Leymus cinereus) datacollection on 112 source populations in common gardens at two sites and three years has been completed. Initial analysis indicates climate linked genetic variation and interactions with ploidy are important for adaptation. Seed zones will be developed andpublished.
Data collection in common gardens is completed for bottlebrush squirreltail (Elymus elymoides)and is being analyzed at the Rocky Mountain Research Station for seed zone development.  
A common garden study of sulphur-flower buckwheat (Eriogonum umbellatum) collected in the Intermountain Westand Great Basin was established and data will be collected in 2015 and 2016.
Ecological Genetics of Big Sagebrush (Artemisia tridentata): Genetic Structure and Climate Based Seed Zone Mapping
Bryce Richardson, Nancy Shaw, and Matthew J. Germino
Analyses of growth and seed yield indicate subspecies tridentata and wyomingensis have highly similar adaptive responses to climate.
Overall, clinal patterns of growth and seed yield appear to be shaped by the accumulation of summer heat and the seasonal timing of precipitation.
Plants from lower basins in the western regions of big sagebrush have increased growth and seed yield under hot-dry summers.
Factors Affecting Initial Establishment of Big Sagebrush Outplants: Land Treatments, Seed Sources, and Climate Effects
Matthew J. Germino, Martha Brabec, and Bryce Richardson
Land treatments such as mowing, herbicide application, and drill seeding affect the abundance of herbs that sagebrush seedlings interact (and apparently compete) with, and they influence initial survival of sagebrush outplants.
Growth and initial survival of sagebrush seedlings differed among subspecies, cytotypes, and populations, and the variation was most related to differences in response to freezing, generally supporting the use of minimum temperatures in provisional seed zones.
Paradoxically, mountain big sagebrush consistently expressed less ability to withstand freezing than the low-elevation subspecies, suggesting that further inquiry is needed to understand broad-scale climate adaptation of big sagebrush.
Species and Population-level Variation in Germination Strategies of Cold Desert Forbs
Elizabeth A. Leger and Sara Barga
We identified the dominant germination strategies of ten Great Basin annual and perennial herbaceous species.
A majority of species had no preference for after-ripening temperature.
Species exhibited differences in their preference for cold stratification.
Five species were identified as facultative winter germinators by their ability to germinate at cold (2ºC) temperatures, including Agoseris grandiflora, Blepharipappus scaber, Collinsia parviflora, Cryptantha pterocarya.
We found that Agoseris grandiflora, Collinsia parviflora, Cryptantha pterocarya,and Microsteris graciliswere able to germinate under a broad range of conditions.
In contrast, Gilia inconspicua, Mentzelia albicaulis, and Phacelia hastata possessed high levels of dormancy.
All species displayed population level differences in germination strategies.
Dynamics of cold hardiness accumulation and loss in Sulphur-flower buckwheat (Eriogonum umbellatum)
Anthony S. Davis, Matthew R. Fisk, and Kent G. Apostol
October 2013 - October 2014 field collections and sample processing completed for sulphur-flower buckwheat (Eriogonum umbellatum) cold hardiness study.
Initial results indicate cold hardiness variation across sulphur-flower buckwheat species range and annual seasonality.
Sulphur-flower buckwheat cold hardiness data analysis models in development.
Community Structure of Arbuscular Mycorrhizal Fungi Colonizing Wyoming Big Sagebrush Seedlings
Marcelo D. Serpe and Bill E. Davidson
Pre-inoculation of Wyoming big sagebrush seedlings with native arbuscular mycorrhizae (AMF) increased colonization of the roots that developed after transplanting, but did not affect the AMF taxa colonizing the seedlings.
Sagebrush seedlings were colonized by a diversity of AMF taxa. However, four taxa were dominant. Similar results were obtained for non-inoculated and inoculated seedlings as well as for seedlings harvested in different seasons or from roots collected at different depths.
Smoke-induced Germination of Great Basin Native Forbs
Robert Cox
Extensive literature reviews for all focal species have been conducted and species have been prioritized by germination requirements and potential for smoke response
19 species have been tested for smoke response in germination, with results being analyzed now.
Herbicide Impacts on Forb Performance in Degraded Sagebrush Steppe Ecosystems
Marie-Anne De Graaff and Aislinn Johns
Two greenhouse experiments were conducted in which we (1) applied a gradient of imazapic concentrations, and (2) varied the timing of application relative to seeding of Astragalus filipes, Achillia millefolium, and Sphaeralcea grossulariifolia.
Soils used were collected in degraded burned and unburned sagebrush ecosystems (0-10 cm depth) at the Morley Nelson Birds of Prey National Conservation Area.
PLANT MATERIALS AND CULTURAL PRACTICES
Increasing the Availability and Integration of Great Basin Native Plant Project Tools for BLM Restoration Practitioners
Anne Halford
Apply science and research to improve the identification and protection of resistant and resilient sagebrush-steppe landscapes and the development of biocontrols and other tools for cheatgrass control to improve capability for long-term restoration of sagebrush-steppe ecosystems.  
To the extent practicable, utilize locally-adapted seeds and native plant materials appropriate to the location, conditions, and management objectives for vegetation management and restoration activities, including strategic sourcing for acquiring, storing, and utilizing genetically appropriate seeds and other plant materials native to the sagebrush-steppe ecosystem.
Developing Protocols for Maximizing Establishment of Great Basin Legume Species
Douglas A. Johnson and B. Shaun Bushman
Recent greenhouse studies showed substantial progress in obtaining high germination rates of basalt milkvetch (Astragalus filipes).
Seeded plots were planted at three sites in Oregon: Oregon State University (OSU) Ontario Research Farm, BLM site near Clarno, and a USFS field near Prineville. Three plantings have been attempted at each site, comprising a fall and spring planting. Fall 2011/spring 2012 showed the benefits of non-scarified seed planted in early spring. Fall 2013/spring 2014 resulted in no seedling establishment because of extremely low spring and summer precipitation, however basalt milkvetch germinated and emerged the following year and plants from the previous year survived. Fall 2014 was planted in October and the spring 2015 will be planted in March.
Seed collections were made of ecotypes of Utah trefoil (Lotus utahensis) in southern Utah, Nevada, and Utah. These collections will be evaluated in common gardens, and a DNA marker technique will be used to evaluate genetic diversity among collections.
Native Forb Increase and Research at the Great Basin Research Center
Kevin Gunnell and Jason Stettler
Cushion Buckwheat (Eriogonum ovalifolium) common gardens to analyze: seed production, G1 production seed, and drought tolerance.
Identify a practical and effective method to treat iron deficiency chlorosis (IDC) for improved establishment in Lupine species.
Increase seed from wildland collections to support further research and increase distribution of native seed to commercial growers.
Develop and test methods to increase germination and establishment in argronomic settings.
Determine the effects of N-sulate® fabric on germination and establishment of native forb species in a wildland setting.
Evaluate native forb establishment in Wyoming big sagebrush communities using four different pieces of planting equipment: Truax drill, Lawson aerator, Dixie pipe harrow, and Ely chain.
Plant Material Work at the Provo Shrub Sciences Lab
Scott Jensen
Added 72 new database location records representing 21 species.
Made 45 wildland seed collections representing three species.
Distributed 24 sources of two species for seed increase.
Distributed 38 sources of eight species for commercial seed production.
Study installation evaluating emergence rates of 20 native forb species.  
Study installation comparing emergence rates of Basin wildrye sources.
Aberdeen Plant Materials Center Report of Activities
Derek Tilley
Release of Amethyst Germplasm Hoary Tansyaster.
Progress towards release of Wyeth buckwheat.
Development of NRCS Plant Guides.
Bee Pollination and Breeding Biology Studies
James H. Cane
In the aftermath of a huge wildfire in sage steppe, we sampled native bee faunas at scattered remnant stands of sunflowers growing in ditches along gravel roads that served as fire lines.
Comparable quantitative samples of bees were taken at co-flowering sunflowers outside the burn. Most all of the bee species were non-social and soil nesting.
The bee faunas largely survived the fire intact (but for one surface-nesting species). Females even continued to collect pollen for their nests.
The fire had passed the sample sites at night, a time when female bees are in their nest (and thus safe underground).
Another sample of bees and bloom in a year-old fire found much the same result at blooming Penstemon and Balsamorhiza that has also survived the fire to bloom the following year.
Seed Production of Great Basin Native Forbs
Clinton C. Shock, Erik B. Feibert, Joel Felix, Nancy Shaw, and Francis Kilkenny
Plant establishment report.
Trial of post emergence herbicides.
Irrigation trials for the first set of species that we have worked on for 9 years.
Irrigation trials on a second set of species that we have worked on for 5 years.
Irrigation trials on a third set of species that we have worked on for 2 years.
SEED INCREASE
Coordination of Great Basin Native Plant Project Plant Materials Development, Seed Increase, and Use
Berta Youtie
Preparation and planting of bluebunch wheatgrass (Pseudoroegneria spicata) test sites in recently burned areas within seed zones to test the efficacy of using species-specific provisional seed zones and seed transfer guidelines in native plant restoration efforts after fires.
Increase of native seed collections for the Great Basin Native Plant Project (GBNPP) in Eastern Oregon and Northern Nevada.
SPECIES INTERACTIONS
Use of Native Annual Forbs and Early-seral Species in Seeding Mixtures for Improved Success in Great Basin Restoration
Keirith A. Snyder and Shauna M. Uselman
Seedling emergence and early survival of early seral native species was generally greater than that of late seral native species when seeded with cheatgrass or medusahead.
Native grasses were more successful than native forbs and shrubs in terms of seedling emergence and early survival, especially in a coarse-textured soil.
Emergence and survival of medusahead was consistently very high on divergent soil types, supporting the need for preventive measures against its further spread in the Intermountain West.
Early seral natives show promise for improving success of rangeland restoration/rehabilitation reseeding efforts in the Great Basin.
When the early seral native forb bristly fiddleneck (Amsinckia tessellata) was able to establish, its substantial biomass and reproductive output suppressed the biomass and reproductive output of the exotic annual grass medusahead.
Restoration of Native Understory Plants in Degraded Sagebrush Steppe Ecosystems
David A. Pyke and Kari Veblen
Seeds and seedlings were monitored twice at three loamy Wyoming Big Sagebrush project sites, one each in the Snake River Plains, Owyhee Plateau, and Great Salt Lake MLRAs. Monitoring will be repeated in spring/summer 2015.
Preliminary results suggest higher success of seedling plantings than seedings.
SCIENCE DELIVERY
Science Delivery for the Great Basin Native Plant Project
Corey Gucker
Maintaining contact with Great Basin Native Plant Program (GBNPP) cooperators through regular correspondence, event alerts, and communication of project due dates.
Updating and producing hard copy posters and brochures for Great Basin events and meetings.
Regularly updating the GBNPP website with meeting announcements, new publications, and updated cooperator information.
Helping to develop the agenda and secure presenters for the annual GBNPP meeting.
Tracking and reporting GBNPP accomplishments.
CRESTED WHEATGRASS DIVERSIFICATION
Evaluating Strategies for Increasing Plant Diversity in Crested Wheatgrass Seedings
Kent McAdoo and John Swanson
Project objectives were to evaluate various treatments for reducing crested wheatgrass in near-monoculture rangelands and determine the effect of crested wheatgrass control methods on establishment of seeded native species.
Mechanical treatment (disking) was less successful at reducing crested wheatgrass than was herbicide.
Herbicide, but not mechanical treatment, increased the density of seeded native species in both trials.
Glyphosate treatments, but not disking or other herbicides, increased the density of seeded species in two separate trial studies by effectively reducing the competitive cover of crested wheatgrass.
The Ecology of Great Basin Native Forb Establishment
Jeremy James
Simultaneously seeding crested wheatgrass and forbs does not decrease forb establishment.
Field germination of native forbs can vary 20-fold across sites within a year but even in the best germination scenarios more than 98% of germinated seeds die before they establish.
Seedbed favorability for germination and emergence varied across the nine study site but this variation did not significantly influence forb recruitment.
Improving our ability to increase forb and forb diversity in restoration may be facilitated by identifying traits and populations that have greater germination and emergence probabilities or by applying seed treatments that accelerate germination or minimize exposure of seeds to abiotic stresses.
Presence of Native Vegetation in Crested Wheatgrass Seedings and the Influence of Crested Wheatgrass on Native Vegetation
Kirk Davies and Aleta Nafus
We measured basal cover, density, species richness and diversity on 121 sites that spanned a 54230 km2 area in southeastern Oregon.
Plant community composition of crested wheatgrass stands was quite variable. Some seedings were a monoculture of crested wheatgrass while others contained a more diverse assemblage of native species.
Environmental factors explained a range of functional group variability ranging from 24% of annual forb density to 51% of annual grass density.
Soil texture appeared to be the most important environmental characteristic explaining functional group cover and density 10-50 years post seeding and was included in the best regression models for all plant functional groups.
Native vegetation was, for all functional groups, positively correlated with soils lower in sand content.
Our results suggest that environmental differences explain a large amount of the variability of native vegetation in crested wheatgrass stands and this information can likely be invaluable in assessing the effects of seeding crested wheatgrass and the potential for native vegetation to co-occupy seeded sites with crested wheatgrass.
RESTORATION STRATEGIES AND EQUIPMENT
Seeding Native Species Following Wildfire in Wyoming Big Sagebrush (Artemisia tridentata ssp. wyomingensis): Effects of a New Fire Incident
Jeff Ott and Nancy Shaw
An operational-scale experiment was carried out to test equipment and strategies for seeding native plants following wildfire on Wyoming big sagebrush (Artemisia tridentata ssp. wyomingensis) sites in the northern Great Basin. One of the study sites (Saylor Creek) was hit by a second wildfire two years after the first, creating an opportunity to examine resilience of native seedings to burning. Because the fire did not burn the entire study area, it was possible to compare burned and unburned sections and thereby evaluate fire impacts on plant species cover and density.
Seeded species began to establish in seeded treatments the first year then increased dramatically in cover by the second year. By the third year, following the new fire, seeded species cover decreased to levels intermediate between the first and second years. Non-seeded species generally followed a similar trajectory, although cheatgrass (Bromus tectorum) did not decrease in non-seeded treatments where it faced less competition from perennials.
Seeded forbs and shrubs fell into three groups based on density data: those that initially had high densities, but declined in density by the third year (Achillea millefollium, Penstemon speciosus, Artemisia tridentata ssp. wyomingensis), those with lower initial densities followed by an increase (Sphaeralcea munroana, Ericameria nauseosa), and Astragalus filipes which had low initial density followed by a decrease.
To assess whether changes in cover and density were due to the fire as opposed to other factors, we tested for deviations from expected ratios in burned and unburned sections of the study area. Results suggest that some species were negatively affected by the fire (Artemisia tridentata, Ericameria nauseosa, Achillea millefollium, Poa secunda), others were positively affected (Penstemon speciosus, Achnatherum hymenoides) and others minimally affected (Pseudoroegneria spicata, Elymus elymoides, Sphaeralcea munroana, Astragalus filipes).
A New Biological Control Strategy for Cheatgrass and Ventenata dubia Based on Fungal Endophytes
George Newcombe
Manuscript accepted pending revision (PLOS ONE) on the ecology of Sordaria fimicola and its effects on Bromus tectorum.
Manuscripts being prepared on: the effects of Fusarium endophytes isolated from cheatgrass (Bromus tectorum) and ventenata (Ventenata dubia) on these two species and native bluebunch wheatgrass (Pseudoroegneria spicata); the effects of Sordaria fimicola (CID 323) on B. tectorum in field experiments in MPG Ranch, MT.
Collaborated and shared work at a Biological Invasion Working Group of the Mountain Social Ecological Observatory Network (MtnSEON) meeting, at which were discussed the processes, patterns, and mechanisms of Ventenata dubia invasion in complex western landscapes.
Collaborated and shared work at two Blue Mountains Working Group of MtnSEON meetings, focused on social-ecological systems (including annual grass invasion) research centered on the USFS Starkey Experimental Forest and Range.
Conducted disease surveys in Latah County Idaho. While diseases were present in many neighboring grasses, no signs or symptoms of disease were found on invasive grass species ventenata.
Conducted greenhouse and lab experiments on susceptibility of V. dubia to the wheat pathogen Fusarium culmorum, and tested the hypothesis that B. tectorum and V. dubia endophytic Fusarium strains should protect V. dubia from the effects of disease caused by F. culmorum.
Collected specimens of non-native ventenata across northern Idaho, western Montana, and northeast Oregon. Samples currently in first stages of metagenomics analyses to look at fungal communities living within ventenata grass tissues.
A manuscript is being prepared on the native range of Ventenata dubia. This invader is commonly called 'North Africa grass' but its current Eurasian range does not include populations in North Africa.